Dog Food
WELLNESS
Core Original 24lbs
About Core Original:
Grain-free CORE Original can help support your dog's optimal health with turkey, chicken, salmon oil and fruits and vegetables.High-protein CORE can help encourage healthy digestion and increase energy.
-Nutrient-dense and enhanced with antioxidants and probiotics
-No meat by-products or fillers
-No grain, corn, soy, wheat-gluten or artificial preservatives, colors or flavors
-Fish and flax omega blend for healthy skin and coat.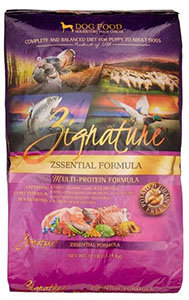 ZIGNATURE
Zssential Multi-Protein Formula Grain-Free Dry Dog Food 27lbs
About Zssential Multi-Protein Formula Grain-Free:
This grain-free, limited ingredient formula is made with several quality protein sources and only a handful of other ingredients, creating a rich recipe with ingredients you can count on.
Made with sustainably sourced ingredients from around the world, like Turkey and Turkey Meal from the American Midwest, Salmon from the Northwest, Duck Meal from France, and Lamb Meal from New Zealand.
Exceptionally high in protein, low in saturated fat, and is loaded with heart-friendly essential Omega-3 Fatty Acids, Vitamin B12 and Selenium, while being a good source of Riboflavin, Thiamin, Niacin and Phosphorus.
Wholesome peas and chickpeas round out the recipe with powerful antioxidants and fiber-rich, low-glycemic carbohydrates.
Free of the most common potential canine allergens: corn, wheat, soy, dairy, and chicken, making this recipe ideal for pups with sensitivities and picky eaters.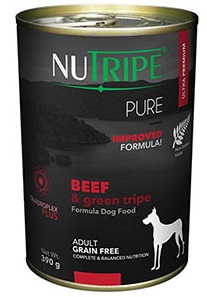 NUTRIPE
Pure Beef & Green Tripe Canned Dog Food 390g
About Wild Nutrition Wet Diet:
Wild Nutrition Wet Diet is our philosophy of a complete and balanced limited ingredient diet that
comprises more than 85% meat & green tripe. This is akin to the diet that ancient dogs and cats thrived on biologically.
Even after years of evolution, their nutritional demands from food remains unchanged.
Quadroplex Plus is a proprietary blend of Co-Enzyme Q10, Cranberries, Green Mussel Powder and Salmon Oil, for a multifaceted approach to pets health care.
This blend promotes healthy immune system, skin & coat, joints and cardiovascular function.
It also has anti-inflammatory properties and acts as an antioxidants against free radicals which causes cancer. Furthermore, it helps to prevent urinary tract infection and plaque build-up.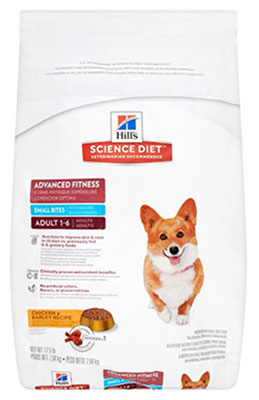 SCIENCE DIET
CANINE ADULT LAMB & RICE 15kg (SMALL BITES)
About CANINE ADULT LAMB & RICE
Hill's Science Diet Adult Advanced Fitness Small Bites Lamb Meal & Rice Recipe dog food provides precisely balanced nutrition for a visible difference in dogs who prefer a smaller kibble.
-Nutrition to improve skin & coat in 30 days
-Clinically proven antioxidant benefits
-No artificial colors, flavors, or preservatives
Recommended For: Adult dogs 1 - 6 years of age.
Not Recommended For: Puppies, pregnant or nursing dogs.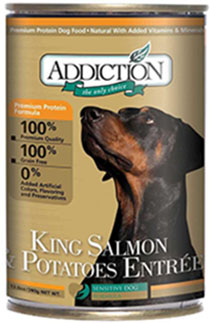 ADDICTION
King Salmon & Potatoes Entree Canned Dog Food 390g
About King Salmon & Potatoes Entree Canned Dog Food:
From the pristine waters of New Zealand, Addiction brings to you the New Zealand King Salmon. Rich in Omega-3 and Vitamin E for a healthy skin and coat, King Salmon is as nutritious as it is delectable!
This hypoallergenic formula is designed as a low allergy and healthier alternative to diets made from chicken, beef or lamb. Lovingly prepared with Hoki, a prized New Zealand fish, as well as a medley of lemons and oranges, your dog will surely enjoy this gourmet recipe!
NO:
– Grain
– Artificial preservatives
– By-products, fillers, gluten or corn